9/97 - Terrapin Station project is announced
9/97 - Terrapin Special Edition is released
/98 - First 'Phil and Friends' show in San Francisco
6/98 - The Other Ones join the FURTHUR tour
12/98 - Phil Lesh undergoes a successful liver transplant
4/15/99 - Phil Lesh returns to live performance: 'Phil and Friends' play three nights at the Warfield Theatre, S.F.
5/26/99 - Mickey Hart is appointed trustee of the American Folklife Center of the Library of Congress, in honor of his contributions to the Endangered Music Project (see the World Music section of the Dancing Bear Shop)
7/15/99 - Bob Weir (last one to give in) marries Natascha Muenter
7/25/99 - Mickey Hart performs at Woodstock'99 with Planet Drum. He is the only musician there who also played at the original Woodstock Festival in '69
8/6/99 - Dick Latvala (tape archivist and driving force behind the Dick's Picks series) dies of heart failure in his home in Petaluma, California
10/99 - Phil Lesh and Friends tour with Bob Dylan
11/99 - So Many Roads (1965 - 1995) is released
7/2000 - The "View from the Vault" series of concert videos is launched, edited from footage from the stage video screens. First release with VHS/PAL option.
8-9/2000 - The Other Ones tour again with FURTHUR. Bill Kreutzmann is onboard, while Alphonso Johnson has replaced Phil Lesh on bass
10/2001 - "The Golden Road" Box Set is released, all the WB albums remastered with outtakes and live material added
6-7/2002 - Bob Weir's band Ratdog tour Europe, performing mostly in clubs and other small venues.
7/2002 - The Dick's Picks series reaches volume 25
8/3-4/2002 - The surviving founding members of the Grateful Dead (including Robert Hunter) perform in various formations at the "Grateful Dead Family Reunion" in East Troy, Wisconsin.
2/10/2003 - The Other Ones (Phil Lesh, Mickey Hart, Bill Kreutzmann, Bob Weir, Jeff Chimenti, Rob Barraco, Jimmy Herring) declare their decision to tour and record under the name "The Dead".
4/2003 - The Dead announce the "Summer Getaway 2003" tour, june thru september. Joan Osborne joins the band on vocals, and they perform with Bob Dylan, Willie Nelson and others on parts of the tour.Official recordings of all shows are sold at the shows and on the www.
6/2004 - The Dead embark on the "Wave That Flag 2004 tour" with Warren Haynes as the newest member of the lineup.
8/2005 - "The Live Dead Box Set", Fillmore West 2/27 - 3/2 1969, is finally released on 10 CDs. The 10,000 numbered sets are sold out more than 2 months before the release date.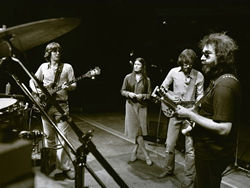 2006 - Rumours abound about the sale of GD Marketing, DNC, etc. Rhino Records is mentioned. No new music releases have surfaced in the first half of 2006, except a few downloads.
5/17/2006 - Ramrod - long-time roadie and president of Grateful Dead Productions - dies from lung cancer.
6/2/2006 - Vince Welnick dies by his own hand.
10/2006 - The takeover by Rhino Records is made official. A new Vault release is announced for release in January 2007.
10/31/2006 - Phil Lesh and Friends release a DVD and a 2-CD set from two shows at San Francisco's Warfield Theatre.
11/27/2006 - www.dead.net introduces a new format. "Tapers' Section" is a new feature where every Monday, vaultkeeper David Lemieux presents selected tidbits from shows played during that week throughout the Dead's career. Song segments are in downloadable MP3 format and the reactions from deadheads are overwhelmingly positive.
1/23/2007 - The first Vault release after the takeover is "Grateful Dead Live at the Cow Palace, New Year's Eve 1976". The release date just misses the 30 years anniversary of the show.
6/2007 - www.dead.net is reborn in yet another design with many new features and promise of more to come.
6/26/2007 - Rhino releases "Three From The Vault" (2/19/71), 15 years - and many other multitrack releases - after volume Two.
8/20/2007 - All music files in the "Tapers' Section" are suddenly changed to a streaming-only, non-downloadable format. The reason given is that "some users" have been downloading the files! General outrage follows.
11/5/2007 - Announcement of "Road Trips", a new series of archive releases. Vol.1 No.1 is a 2CD compilation from the "Eastern Swing" Fall tour of 1979.
2/4/2008 - Phil Lesh, Mickey Hart and Bob Weir, together with members from Phil's solo band, play "Deadheads for Obama", a fundraising concert held at S.F.'s Warfield Theatre. Sen. Barack Obama delivers a videotaped address.
3/17/2008 - Pre-announcement of "Winterland 1973", a 9-CD box set of three complete concerts from November 1973, to be released in April.
4/24/2008 - In a broadcast "Grateful Dead Press Conference" from the Fillmore Auditorium, Mickey Hart and Bob Weir announce the transfer of the Grateful Dead archives to the University of California at Santa Cruz.
9/30/2008 - Rhino releases "Rocking the Cradle" (9/15-16/78), a 2CD+DVD set from Cairo, Egypt, 30 years after the event.
10/13/2008 - The Dead (with members of ABB and others) perform at the "Change Rocks" fundraiser for the Obama campaign.
10/24/2008 - Merl Saunders dies at age 74.
01/18/2009 - The Dead play at the Inaugural Ball in Washington D.C.
02/09/2009 - Mickey Hart takes his second World Music grammy for "Global Drum Project".
03/25/2009 - The "Pure Jerry" series is back on track with the Garcia/Kahn acoustic show at Marin Veterans Memorial Auditorium, 2/28/86.
03/30/2009 - The Dead, in preparation for their spring tour, do 3 free shows and a TV appearance on the same day.
04/07/09 - Rhino releases "To Terrapin", a 3 CD album from Hartford Civic Center, May 28, 1977.
07/21/2009 - John "Marmaduke" Dawson, founding member of the New Riders of the Purple Sage, dies at age 64.
9/13/2009 - The second 9-CD box set from Winterland is pre-announced. This time it's 3 complete shows from 7-9 June 1977, to be released on the 1st of October.
1/19/2011 - Dead.net announces "Europe 1972 - the complete recordings" mega box set for release in September. The 7200 numbered sets are sold out in less than 4 days.
3/13/2011 - Bear (Augustus Owsley Stanley III) is killed in an auto accident near his home in Australia, at age 76.
2/1/2012 - Start of a new series of archival releases - Dave's Picks. There will be 4 releases per year, each limited to 12000 copies. Subscribers receive a bonus CD with the May release.
8/31/2012 - "Spring 1990" is released, 18 CDs, 6 complete shows from the celebrated spring tour, in a lavish box set. Once again, a 9000 copies limited edition release.
6/11/2013 - Release of "May '77" box set; 5 previously unreleased shows from the oft-visited month of May 1977. A limited edition of 15,000 copies.
9/17/2013 - "Sunshine Daydream", the much-bootlegged 8/27/72 concert film, is finally given an official release in another combined CD- and DVD/Blu-Ray package. A limited de luxe edition of 12,500 copies is released on dead.net. Two weeks after the general release hit the shops, it reached #5 on Billboard's rock album hit list.
9/7/2014 - "Spring 1990 - The Other One" is released, 23 CDs, 8 more shows from the spring tour, which is now available in its entirety on various releases. Limited to 9000 copies.
12/16/2014 - Rock Scully, b. 8/1/41, co-manager of the Grateful Dead 1967-1984, dies from lung cancer.
2015 - the 50th anniversary year of the Grateful Dead.
6/2015 - The Anniversary Boxed Set is announced: A crate of 30 shows (80 CDs), one hitherto unreleased show from each year from 1965 to 1995.

7/3-5/15 - "Fare Thee Well - a celebration of the Grateful Dead". The Core Four, Weir, Lesh, Hart and Kreutzman, aided by Hornsby, Chimenti and Phish's Trey Anastasio, return to Soldier Field, Chicago, for three sold-out shows. This will, purportedly, be the last time the Core Four will play together, ever. The event is documented on DVD/B-R/CD boxed sets, plus compilations.
8/2015 - "Grateful Dead & Company" announce a mini-tour in the Fall. That is, Weir, Hart and Kretzmann perform with celebrated blues guitarist John Mayer.
5/13/2016 - "July 1978: The Complete Recordings" is released, five complete shows culminating in the legendary first two shows at Red Rockds, Colorado, 7/7/78 and 7/8/78. Limited to 15,000 copies.
5/5/2017- Release of "May 77: Get Shown The Light" limited edition boxed set; the "Big Four" missing shows from May 5, 7, 8 and 9, 1977.
Barton Hall, Cornell U. 5/8/77 is also released separately as 3CD and 5LP sets.
2/6/2018 - Grateful Dead lyricist John Perry Barlow dies after prolonged illness.

9/7/2018 - The boxed set "Pacific Northwest 73-74" is released. Two complete (mini-)tours, 3 cities, 6 shows, 19 CDs.

11/9/2018 - "Long Strange Trip", the 4-hour documentary directed by Amir Bar-Lev, hitherto available only on Amazon Prime, is released on DVD and Blu-ray.