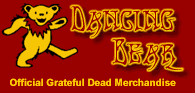 Grateful Dead: Dave's Picks 48, Pauley Pavilion, UCLA (11/20/71)

CD619 - 3 CD
Rhino - 2023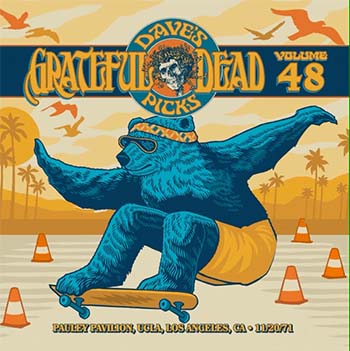 .
Grateful Dead: Dave's Picks Vol. 48
Pauley Pavilion, UCLA, CA (11/20/71)
Is there anyone who knows the acoustics of Pauley Pavilion better than Bill "Grateful Red" Walton? We think not, so we signed him on as a first-string liner note scribe for DAVE'S PICKS VOLUME 48, the complete previously unreleased show from UCLA's Pauley Pavilion 11/20/71. He was there, after all, "driftin' and dreamin'" as the Dead took over the court, shape-shifting through a first set of Americana classics from WORKINGMAN'S DEAD and AMERICAN BEAUTY into a second one featuring truly primal psychedelic jams (a 23+ minute "The Other One"). They peppered in hot takes on tracks from the recently released SKULL & ROSES ("Bertha,""Me And My Uncle,""Not Fade>GDTRFB") and road-tested tunes like "Ramble On Rose" and "Tennessee Jed" that would make the cut on the following year's EUROPE '72. It's all delivered with such precision that we've had to come up with some overtime for disc three. There you'll find 75+ minutes of music from the Kiel Opera House, St. Louis, MO, 10/24/70, with the rest of the show due sometime in the near future.

Limited to 25,000 numbered copies, DAVE'S PICKS VOLUME 48: PAULEY PAVILION 11/20/71 was recorded by Rex Jackson and has been mastered to HDCD specs by Jeffrey Norman at Mockingbird Mastering.
Tracklist

CD 1
1. Bertha
2. Me And My Uncle
3. Sugaree
4. Beat It On Down The Line
5. Tennessee Jed
6. Mexicali Blues
7. Brown-Eyed Women
8. El Paso
9. Big Railroad Blues
10. Jack Straw
11. Cumberland Blues
12. Playing In The Band
13. Casey Jones
14. One More Saturday Night
CD 2
1. Truckin'>
2. Drums>
3. The Other One>
4. Ramble On Rose
5. Sugar Magnolia
6. You Win Again
7. Not Fade Away>
8. Goin' Down The Road Feeling Bad>
9. Not Fade Away
CD 3
Kiel Auditorium, St. Louis, MO (10/24/70)
1. Dancing In The Street
2. Hurts Me Too
3. Good Lovin'
4. St. Stephen>
5. Not Fade Away>
6. Goin' Down The Road Feeling Bad>
7. Not Fade Away>
8. Turn On Your Lovelight
.