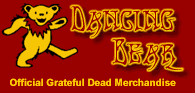 GarciaLive Volume Thirteen:
Poplar Creek Music Theatre, Chicago, IL (9/16/89)

CD559
Jerrygarcia.com, 2020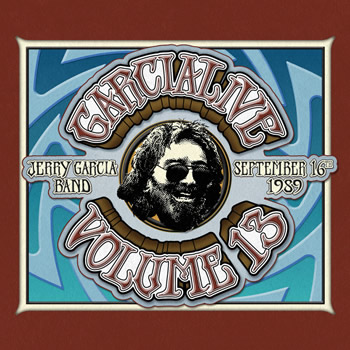 .
Jerry Garcia Band:
GarciaLive Volume Thirteen, featuring Clarence Clemons
Poplar Creek Music Theatre, Chicago, IL (9/16/89)
It's with great pleasure we share news of the next installment in the GarciaLive series - GarciaLive Volume 13: September 16th, 1989 Poplar Creek Music Theatre. For some, the number thirteen is filled with superstition, but we can comfortably say GarciaLive Volume 13 will only brighten your doorstep upon release on Friday, April 24th. The new release, like the previously issued Pure Jerry: Merriweather Post Pavilion, September 1 & 2, 1989 and Fall 1989: The Long Island Sound, once again puts a spotlight on the Jerry Garcia Band's legendary September '89 run, but with one BIG addition — the Big Man, Clarence Clemons. 
Clemons, the tenor saxophone giant from Bruce Springsteen's E Street Band, joined the tour at the Meadowlands in northern New Jersey after first linking up with Garcia at the Grateful Dead's New Year's Eve 1988 performance in Oakland. Though he wasn't well versed in the JGB's repertoire at the start, Clarence's deep knowledge of R&B and rock-n-roll made him a decidedly quick study - and by the time they hit Poplar Creek for the tour closer, they were really rolling! Garcia, already enjoying one of his best latter-day years following his recovery from a near-death experience, was in particularly fine form. His playing dexterous and down-right otherworldly at times. And as Blair Jackson writes in the liner notes, 'Clarence is right there with him, bleating and honking and purring and sounding like all his influences - from Maceo Parker and Lee Allen to King Curtis and Junior Walke - rolled into one powerful package that was unmistakably Clarence Clemons. He´s definitely not laying back, and his assertiveness clearly pushes Garcia to play harder and louder and funkier at every turn.'
While the setlist is fairly standard for the era, Clemons helps the band find new heights on old staples like The Band's The Night They Drove Old Dixie Down, The Beatles' Dear Prudence and a pair of Garcia/Hunter originals, Cats Under The Stars and They Love Each Other. One relative rarity of note is a positively blistering take on The Rolling Stones' romp Let's Spend The Night Together, dusted off earlier in the year after having been absent since '76, which closes set one spectacularly. Top to bottom, this one is filled with magic - and we're delighted to share it with you.
Track list
Disc 1:
Cats Under The Stars
They Love Each Other
Let It Rock
I Shall Be Released
Someday Baby
Dear Prudence
Let's Spend The Night Together
Disc 2:
How Sweet It Is To Be Loved By You
Knockin' On Heaven's Door
Think
Waiting For A Miracle
Evangeline
The Night They Drove Old Dixie Down
Tangled Up In Blue
.