Grateful Dead: JULY 1978: THE COMPLETE RECORDINGS
Five Complete Shows on 12 discs:
7/1/78 Arrowhead Stadium: Kansas City, MO
7/3/78 St. Paul Civic Center Arena: St. Paul, MN
7/5/78 Omaha Civic Auditorium: Omaha, NE
7/7/78 Red Rocks Amphitheatre: Morrison, CO
7/8/78 Red Rocks Amphitheatre: Morrison, CO
Are you ready for "Betty"? If you just said it's about time, we couldn't agree more! We're pleased to announce JULY 1978: THE COMPLETE RECORDINGS, five incredible unreleased shows and the first official release from the long-lost 'Betty Boards', recently returned to the Grateful Dead's vault. Follow the Dead on a sonic journey through a superb selection of settings, an often epic adventure that finds them winning over Willie and Waylon fans in Kansas City, conjuring charisma in Omaha, and elevating the Red Rocks beyond their already spiritual planes. With five distinct performances painting the masterpiece of 1978, Betty Cantor-Jackson's always-pristine soundboard recordings, and the "hall-of-fame pedigree" of the Dead's first-ever shows at the legendary Red Rocks Amphitheatre, this is one release that far exceeds excellence in music, sound quality, and rarity.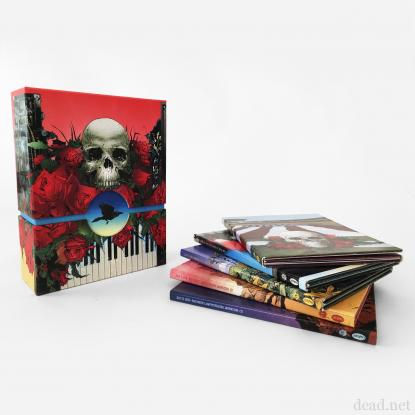 Grateful Dead archivist David Lemieux offers context on the new set. "To many ears, mine included, 1978 is considered one of the best years in Grateful Dead history, keeping the momentum going from the excellence of 1977 Dead," he told Rolling Stone. "These five shows are from one of the best weeks of the one of the best years in the Grateful Dead's 30 years performing career. From the opening 'Bertha' to the closing 'Werewolves of London,' this box features nearly 100 tracks of phenomenal, inspired playing, all of which is previously unreleased. "The first three shows in this boxed set are completely uncirculated in soundboard format, and this boxed set will give the world its first taste of these three magnificent, previously thought-to-be-lost Grateful Dead concerts. Each show is presented in its entirety, in pristine recordings by long-time Grateful Dead engineer Betty Cantor-Jackson. Add to these three show the first two Grateful Dead performances at Red Rocks in Colorado, a run widely considered the best of the year, and you have one of the most compelling boxed sets the Grateful Dead have ever released. (courtesy of RollingStone.com)
All of the performances in this collection are drawn from the band's master soundboard recordings, each newly mastered by Jeffrey Norman. The set also features original artwork by esteemed cartoonist Paul Pope (D.C. and Marvel comics) and in-depth liner notes written by Nick Meriwether (Grateful Dead Archives at the University of California, Santa Cruz), as well as a producer's note from producer David Lemieux.
Show #1 Arrowhead Stadium: Kansas City, Mo (7/1/78)
Disc 1
1. Bertha [7:02]
2. Good Lovin' [6:30]
3. Tennessee Jed [8:49]
4. Jack Straw [6:03]
5. Friend Of The Devil [8:20]
6. Me And My Uncle [2:56]
7. Big River [5:16]
Disc 2
1. Terrapin Station> [11:01]
2. Playing In The Band> [8:56]
3. Rhythm Devils> [8:51]
4. Space> [3:51]
5. Estimated Prophet> [11:05]
6. The Other One>[5:13]
7. Wharf Rat> [10:01]
8. Around And Around [8:25]
9. Johnny B. Goode [4:15]
Show #2 St. Paul Civic Center Arena, St. Paul, Mn (7/3/78)
Disc 1
1. New Minglewood Blues [5:40]
2. Loser [7:35]
3. Looks Like Rain [7:51]
4. Ramble On Rose [7:25]
5. Mexicali Blues> [3:26]
6. Mama Tried> [3:24]
7. Peggy-O [8:09]
8. Cassidy [5:08]
9. Deal> [6:13]
10. The Music Never Stopped [8:20]
Disc 2
1. Scarlet Begonias> [10:16]
2. Fire On The Mountain[9:39]
3. Dancing In The Street> [13:32]
4. Rhythm Devils> [11:10]
5. Not Fade Away> [6:46]
6. Stella Blue> [10:51]
7. Sugar Magnolia [9:19]
8. Werewolves Of London [7:12]
Show #3 Omaha Civic Auditorium, Omaha, Ne (7/5/78)
Disc 1
1. Sugaree [9:51]
2. Beat It On Down The Line [3:28]
3. They Love Each Other [7:12]
4. Looks Like Rain[7:59]
5. Dire Wolf [3:49]
6. It's All Over Now[8:22]
7. Candyman [6:41]
8. Lazy Lightning> [3:27]
9. Supplication[5:27]
10. Deal[5:59]
11. Samson And Delilah [7:18]
12. Ship Of Fools[7:29]
Disc 2
1. Estimated Prophet> [12:42]
2. Eyes Of The World>[12:23]
3. Rhythm Devils>[7:56]
4. Space> [7:28]
5. Wharf Rat>[9:43]
6. Truckin'> [7:29]
7. Iko Iko> [7:23]
8. Around And Around [8:27]
9. Promised Land [4:13]
Show #4 Red Rocks Amphitheatre, Morrison, Co (7/7/78)
Disc 1
1. Jack Straw [5:49]
2. Candyman [6:40]
3. Me And My Uncle>[3:00]
4. Big River [5:53]
5. Friend Of The Devil [8:36]
6. Cassidy [5:06]
7. Tennessee Jed [9:11]
8. Passenger [5:31]
9. Peggy-O [9:10]
10. The Music Never Stopped [8:13]
Disc 2
1. Cold Rain And Snow [7:26]
2. Beat It On Down The Line [3:38]
3. Scarlet Begonias> [10:18]
4. Fire On The Mountain [8:10]
Disc 3
1. Dancing In The Street[8:57]
2. Rhythm Devils>[10:12]
3. Space> [6:09]
4. Not Fade Away> [11:04]
5. Black Peter>[10:29]
6. Around And Around [8:44]
7. U.S. Blues [5:55]
8. Johnny B. Goode [4:16]
Show #5 Red Rocks Amphitheatre, Morrison, Co (7/8/78)
Disc 1
1. Bertha> [6:43]
2. Good Lovin' [6:40]
3. Dire Wolf [4:07]
4. El Paso [4:25]
5. It Must Have Been The Roses [7:16]
6. New Minglewood Blues [6:09]
7. Ramble On Rose [8:34]
8. Promised Land [4:37]
9. Deal [6:26]
10. Samson And Delilah [7:44]
11. Ship Of Fools [7:29]
Disc 2
1. Estimated Prophet> [13:08]
2. The Other One> [8:51]
3. Eyes Of The World> [10:34]
4. Rhythm Devils> [10:29]
5. Space> [5:03]
6. Wharf Rat> [8:43]
7. Franklin's Tower [10:39]
8. Sugar Magnolia [9:31]
Disc 3
1. Terrapin Station> [10:54]
2. One More Saturday Night [5:13]
3. Werewolves Of London [6:44]
12 Disc boxed set
Mastered in HDCD by Jeffrey Norman
Artwork by esteemed cartoonist Paul Pope
Intro and show-by-show liner notes by Nicholas Meriwether
Producer's Note by David Lemieux
Individually Numbered, Limited Edition of 15,000
Release Date: May 13, 2016