.
Grateful Dead: 30 TRIPS AROUND THE SUN
"When we began discussing audio projects to commemorate the 50th anniversary of the Grateful Dead back in 2012, we knew we wanted to do something completely unprecedented. We could think of nothing more exciting or ambitious than a career-spanning overview of the band's live legacy focused on what best tells the story: complete concerts. Our first criterion was the very best live music to represent any given year in the band's history. We wanted to make sure that there were not only the tent-pole shows that fans have been demanding for decades but also ones that are slightly more under the radar, but equally excellent. For those who listen to the entire box straight through, chronologically, the narrative of the Grateful Dead's live legacy will be seen as second to none in the pantheon of music history." - David Lemieux
We are more than pleased to announce the Grateful Dead's most ambitious release ever: 30 TRIPS AROUND THE SUN. Available as both an 80-disc boxed set and a custom lightning-bolt USB drive, the collection includes 30 unreleased live shows, one for each year the band was together from 1966 to 1995, along with one track from their earliest recording sessions in 1965. Packed with over 73 hours of music, both the boxed set and the USB drive will be individually numbered limited editions. The 80-disc boxed set is individually numbered and limited to 6,500 copies, a nod to the band's formation in 1965. Along with the CDs, it also includes a gold-colored 7-inch vinyl single which bookends the band's career. The A-side is 'Caution (Do Not Stop On Tracks)' from the band's earliest recording session in 1965 with the B-side of the last song the band ever performed together live, 'Box Of Rain' recorded during their final encore at Soldier Field in Chicago on July 9, 1995.
The box also comes with a 288-page book that features an extensive, career-spanning essay written by Nick Meriwether, who oversees the Dead archives at the University of California, Santa Cruz, along with special remembrances of the band submitted by fans. Also included is a scroll that offers a visual representation of how the band's live repertoire has evolved through the years.
The USB drive version will be shaped like a gold lightning bolt with the Grateful Dead 50th anniversary logo engraved on the side. The drive includes all of the music from the collection in both FLAC (96/24) and MP3 formats and is an individually numbered limited edition of 1,000 copies.
Product Details:
80 discs 73+ hours of music
30 unreleased live shows, one for each year from 1966 to 1995
1 Gold-colored 7-inch featuring "Caution (Do Not Stop On Tracks)" 1965/"Box Of Rain" Soldier Field, Chicago, 7/9/95
288-page book with an extensive, career-spanning essay by Nicholas Meriwether and special remembrances submitted by fans
A scroll featuring a visual representation of the band's evolution.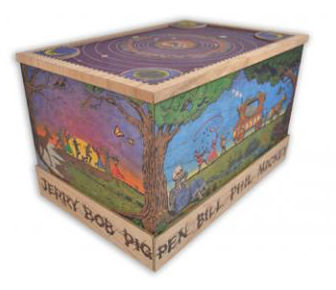 The shows:
1966 - 7/3, Fillmore Auditorium, San Francisco, CA
1967 - 11/10, Shrine Auditorium, Los Angeles, CA
1968 - 10/20, Greek Theater, Berkeley, CA
1969 - 2/22, The Dream Bowl, Vallejo, CA
1970 - 4/15, Winterland, San Francisco, CA
1971 - 3/18, Fox Theater, St. Louis, MO
1972 - 9/24, Palace Theater, Waterbury, CT
1973 - 11/14, San Diego Sports Arena, San Diego, CA
1974 - 9/18, Parc des Expositions, Dijon, France
1975 - 9/28, Lindley Meadows, Golden gate Park, San Francisco, CA
1976 - 10/3, Cobo Arena, Detroit, MI
1977 - 4/25, Capitol Theater, Passaic, NJ
1978 - 5/14, Providence Civic Center, Providence, RI
1979 - 10/27, Cape Cod Coliseum, South Yarmouth, MA
1980 - 11/28, Lakeland Civic Center, Lakeland, FL
1981 - 5/16, Cornell University, Ithaca, NY
1982 - 7/31, Manor Downs, Austin, TX
1983 - 10/21, The Centrum, Worcester, MA
1984 - 10/12, Augusta Civic Center, Augusta, ME
1985 - 6/24, River Bend Music Center, Cincinnati, OH
1986 - 5/3, Cal Expo Amphitheater, Sacramento, CA
1987 - 9/18, Madison Square Garden, New York City, NY
1988 - 7/3, Oxford Plains Speedway, Oxford, ME
1989 - 10/26, Miami Arena, Miami, FL
1990 - 10/27, Zenith, Paris, France
1991 - 9/10, Madison Square Garden, NY, NY
1992 - 3/20, Copps Coliseum, Ontario, Canada
1993 - 3/27, Knickerbocker Arena, Albany, NY
1994 - 10/1, Boston Garden, Boston, MA
1995 - 2/21, Delta Center, Salt Lake City, UT
.